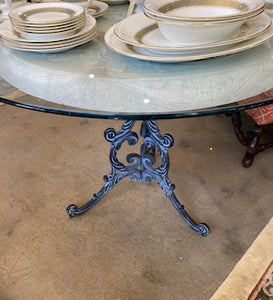 Date: early 20th century
Origin: Most likely Italian, due to the "ornato" - the carving of the leaves: ivy, oak and laurel.
It also shows two coats of arms. Usually they are given as a gift for weddings or anniversaries.
This kind of ornate marble is typical of Tuscany where they have the best 'scalpellini' (artists of the ornato, the carving of the marble) in the world.
Description: A round topped carved marble occasional table with additional glass top. 
Lowest Price: $2800